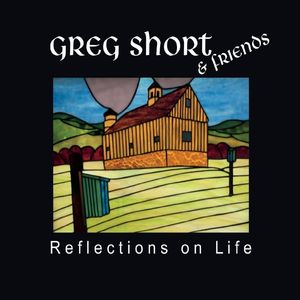 **A large portion of the proceeds from the sale of this album were donated to the West Virginia University Foundation for the Industrial Engineering Legacy Fund.**
Also available at our shows!
About the Album:

Reflections on Life is an album unlike any recording of songs you might have experienced. When you listen to the album, be by yourself or with a loved one. Absorb the words. Let them stir reflections on your life. The songs here will stir different reactions unique to each listener. You are likely to be challenged to rethink how you see your life's course. We hope that you will find the experience transformational. Once you have listened to the album, we would love for you to share your thoughts with others by clicking the Add Message link on this page and/or writing a review on CD Baby.  

About the Artists:

Greg Short is a singer/songwriter/guitarist with several decades of experience in writing, performing, and recording. He began playing guitar at the age of 13. The day he first played a 12 string guitar changed his life forever. His ability to play complex leads and rhythm together on the guitar tricks your ear into thinking there are multiple guitars at play. His love and understanding of vocal harmonies leads to the creation of very intricate, yet soaring melodies. Greg is honored to have shared the stage and studio over the years with his brothers, his sons, many friends, and several top country artists.

Andy Pintus came out to one of Greg's shows several years ago and asked if he could sit off stage to the side and play quietly along with Greg. Andy was learning to play harmonica and enjoyed playing along to Greg's music. After several shows, Greg invited Andy to join him on stage. Andy hesitantly agreed, but still sat on the edge of the stage and played without a microphone. Fast forward several years, and Andy now fully accompanies Greg as an integral part of Greg Short & Friends. As a former Olympic pole vaulting hopeful and current West Virginia University Philosophy professor, Andy is a lifelong learner and enthusiast. That enthusiasm and penchant for learning is demonstrated in his playing style.

Carla Short sat in the audience for years listening to her husband, Greg. What Greg didn't realize was that she was becoming his student. Carla was learning Greg's playing style, his vocal nuances, and a place for her vocal harmonies. Carla grew up in a musical family where everyone either sang, played an instrument, or both. From a young age, she could hear and understand harmony. She recalls many family gatherings where pickin' & grinnin' would spring up. After 10 years, Carla finally stepped onto the stage with Greg where her harmonies blend perfectly with Greg Short & Friends.

Jack Byrd, Jr. is a beloved Industrial Engineering Professor at West Virginia University. He has been teaching and advising students for 52 years. He is loved and sought after by thousands of current and former students for his unparalleled support and guidance. Jack recently retired, but he remains active as a professor emeritus and continues to talk with his current and former students every day. This album was produced with narration written by Jack as a dedication to his students as well as the staff and Fellows of the Interactivity Foundation.